As an experienced Devon wedding photographer I frequently get to shoot marquee wedding photography.  I love it when my couples choose to celebrate their wedding with a marquee reception in the family garden.  Sam and Gareth are building their own home in the garden so it was the perfect place to celebrate their wedding.   First they had a lovely church ceremony, I then took them for a mini photoshoot to get some romantic portrait images before we joined their guests back at the family garden for the wedding reception that included a live Ceilidh Band.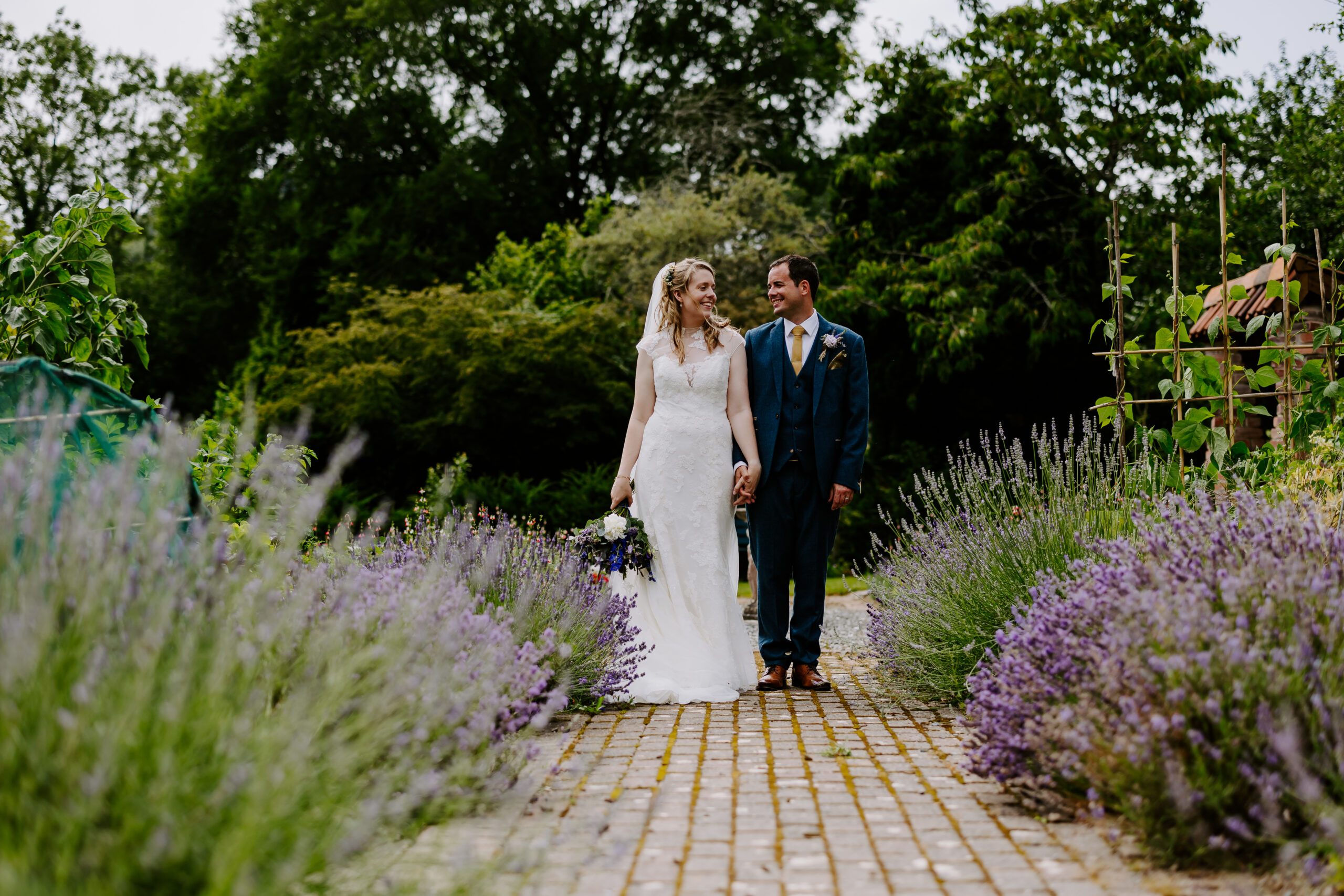 Here's what they had to say about their day.
"Gareth's sister got married a few years before us and had a very similar wedding – a church wedding followed by a marquee in the family garden. We loved the feel of the day and wanted something similar for our day. Additionally, we are building our own family home in the family garden (next to where the marquee was) and we wanted to start out journey as husband and wife as close to home as possible.  There's something really special in knowing that in the future we will be able to look out of our window and see where our wedding reception was.
Our aim for the wedding was to ensure everyone had a good time and had plenty to eat and drink. We opted for lots of greenery and flowers to dress both the church and the reception and settled on blue, green and purple for a colour scheme – a mix of our favourite colours. We were originally meant to get married in June 2020 but sadly COVID had other plans. It was a weird year, constantly feeling one step behind where we should be in the world, but it was worth it in the end."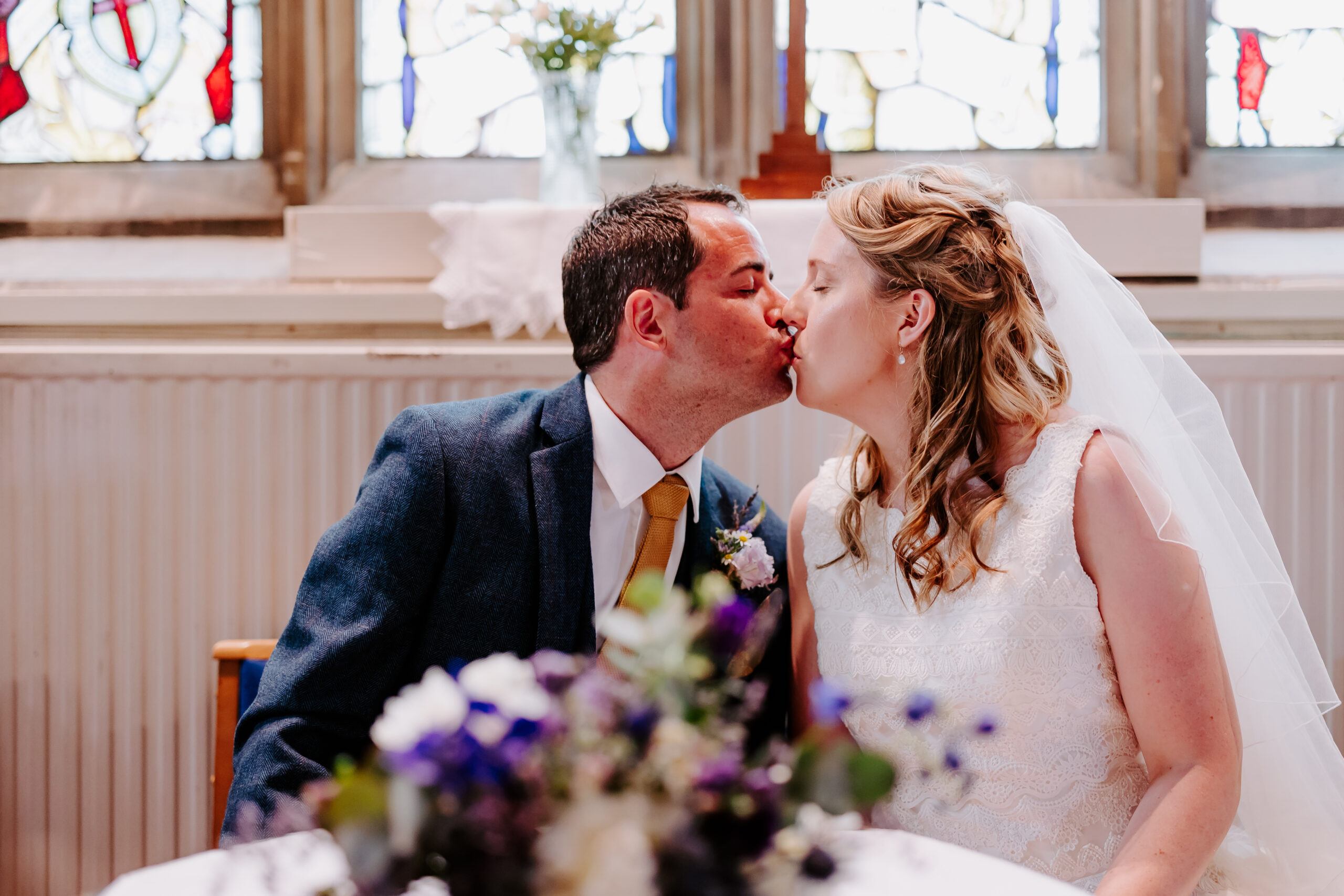 "We had a lot to cram into the day so it was an early start. The church service started at 12. I spent the night before at my parents – leaving Gareth to do all the last minute prep work for the reception at his parent's. We started hair and make up at 7am – Rachel did my hair, she's been doing my hair since I was 10 so it could only be her and that was really special. I then travelled to the venue with my parents and Maid of Honour. We travelled in some old classic wedding cars and my mum loved looking at all the people waving at us. Gareth travelled to the church in a vintage VW campervan also with his parents and best men. The church service lasted for about an hour during which four different friends gave readings. After some photos and confetti at the church we then travelled to Barleycott, Gareth's family home, for the reception. We entered through the top of the garden where I got changed into a second wedding dress – one plus of COVID! We then had some photos in the garden before heading down to the reception and wedding breakfast followed by speeches."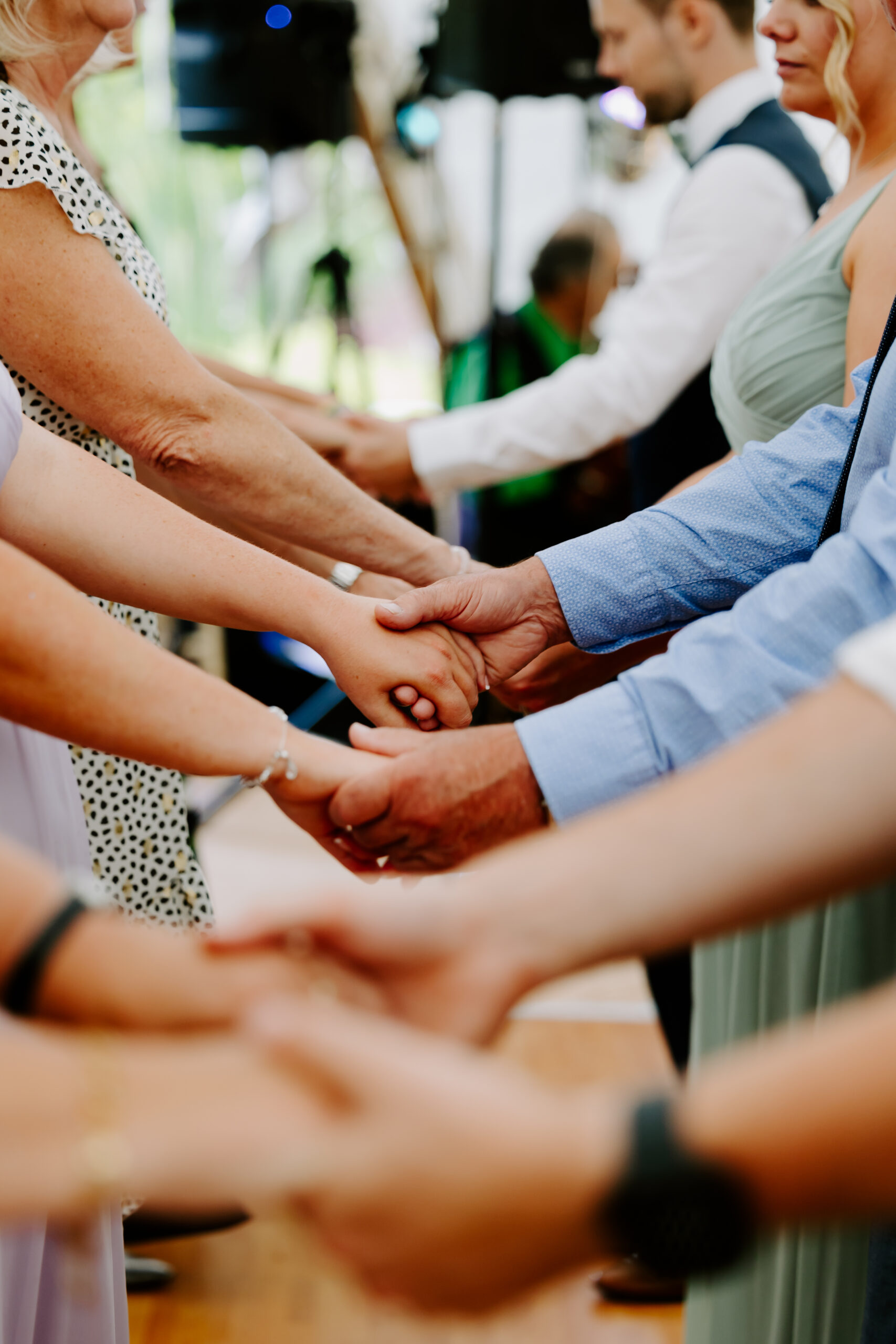 We weren't planning on doing sparklers but Tom insisted it would make good photos and he was spot on. If I was doing it all again, I would make sure to ask our suppliers what their hints and tips are – they are the pros!"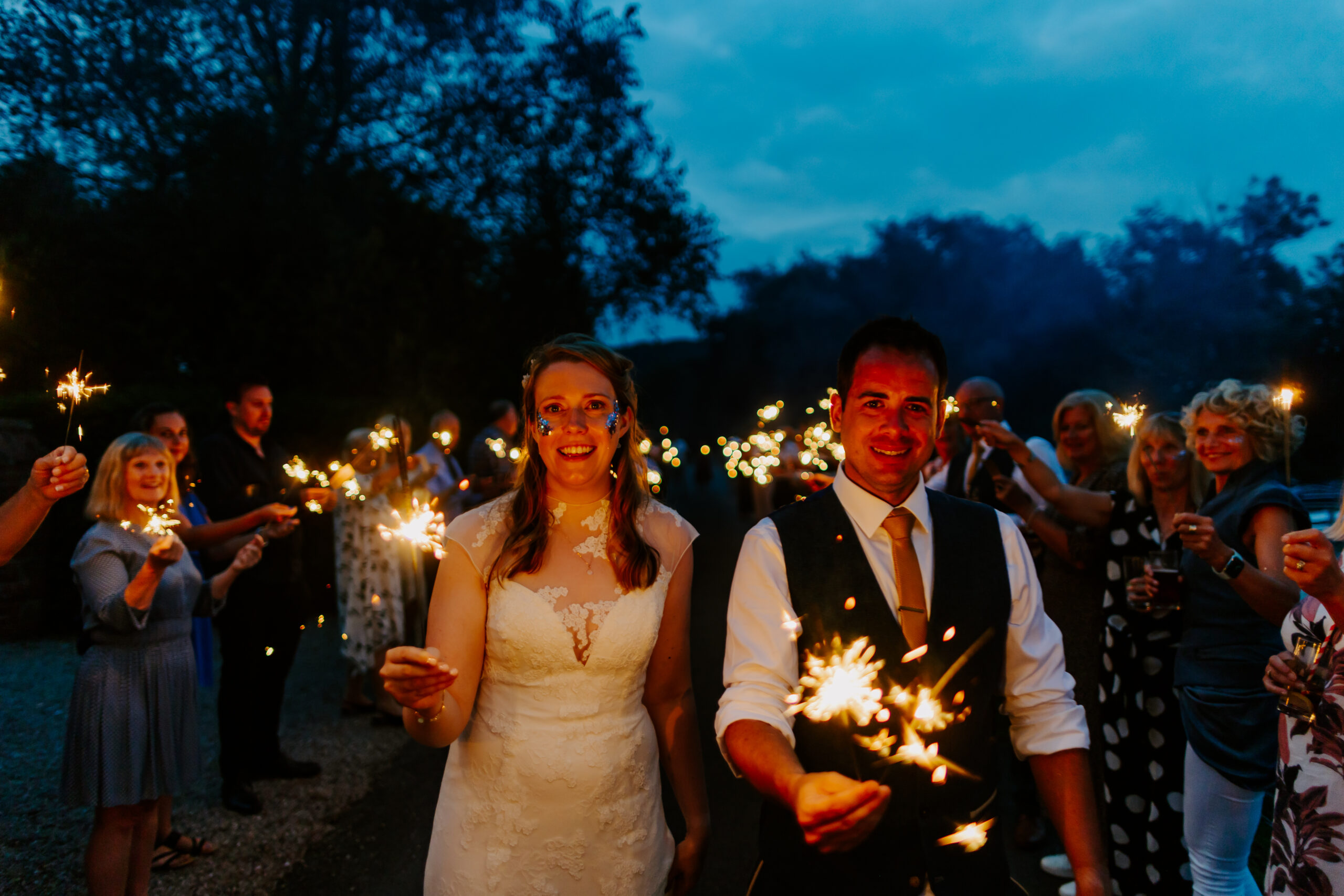 I loved capturing Sam and Gareth's gorgeous marquee wedding in Devon.  The word 'marquee' doesn't do it justice.  It was in fact a large transparent dome.  Here, take a look!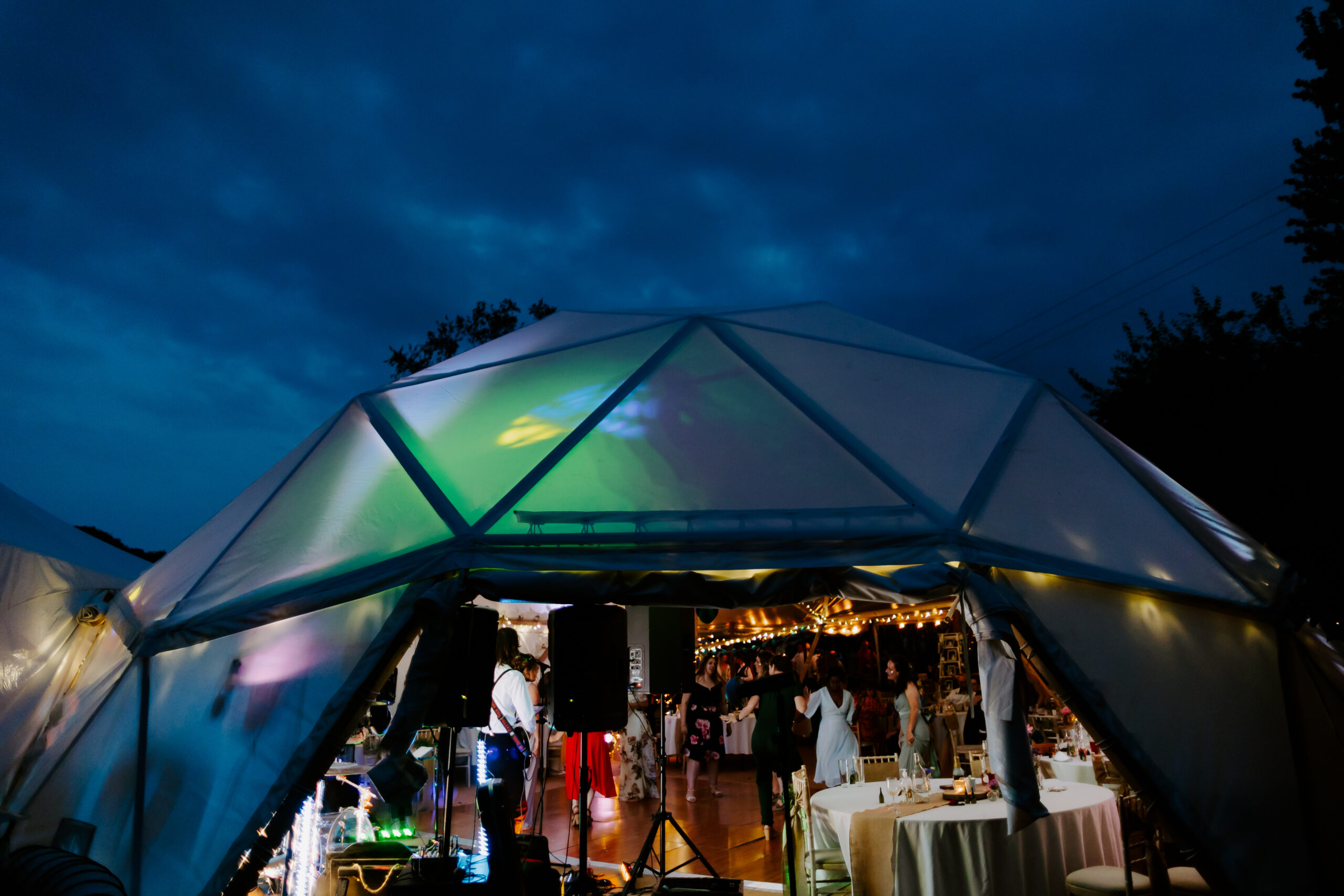 A gorgeous family friendly wedding full of love and laughter.  Congratulations to Sam and Gareth for getting married and creating such a wonderful day to remember.   I'll leave the last words to Sam and Gareth.  Here's what they had to say about working with me.
"We met Tom as he was the photographer at Gareth's sister's wedding and we both loved his approach on the wedding day and the resulting photos. Neither of us wanted lots of posed photos but we equally wanted beautiful photos to last a life time and this is exactly what we got from Tom. I love his photos that feel like they are taken in the wilds of nature, because of where our wedding was, we didn't have beaches or moors readily available but Tom still achieved breath-taking shots with the beauty around our family home – this meant so much and they will be photos we cherish forever."
Suppliers:
Flowers: Church Park Flowers (Heather)
Website: https://www.churchparkflowers.co.uk/
Instagram Handle: churchparkflowers
Make up Artist: Bright Eye Beauty (Hannah)
Website: https://www.brighteyebeauty.co.uk/
Instagram Handle: brighteyebeautynorthdevon
Hair: Rachel from Steven and Laurent
Website: https://www.stevenandlaurent.co.uk/
Instagram Handle: Steven & Laurent hairdressers
Marquee: Baya Domes
Website: https://bayadomes.com/
Instagram Handle: baya_domes
Entertainment: Lucy Anna (acoustic singer)
Website: https://www.lastminutemusicians.com/
YouTube:  https://www.youtube.com/channel/UC5F3Eya-hxTN0cw7OVnT4Cw
Entertainment: Spinach for Norman (Ceilagh Band)
Website: https://spinachfornorman.com/
Youtube: https://www.youtube.com/watch?v=80_DEYhgqqo