As a busy Devon wedding photographer, I get to work at all the best wedding venues in Devon and this is certainly the case when I return to shoot wedding photography at Tunnels Beaches.  This uniquely designed coastal wedding venue was the perfect location for Selina and Walter's wedding.  But I'm getting ahead of myself.  I'll get back to all the reasons why I love shooting wedding photography at Tunnels Beaches in a minute.  Let's start at the beginning of Selina and Walter's amazing wedding day.
On the day I got there early so I could capture some images of Selina and Walter as they made their final preparations.  Selina looked amazing in her fitted dress that had beautiful lace detail and a fish tale shape that gave her a gorgeous silhouette in all of my images.  Her three bridesmaids looked amazing in long black fitted dresses.
Now I don't want to miss the boys out.  Walter and his grooms party looked really smart in a petrol blue light check three-piece suits with pink ties.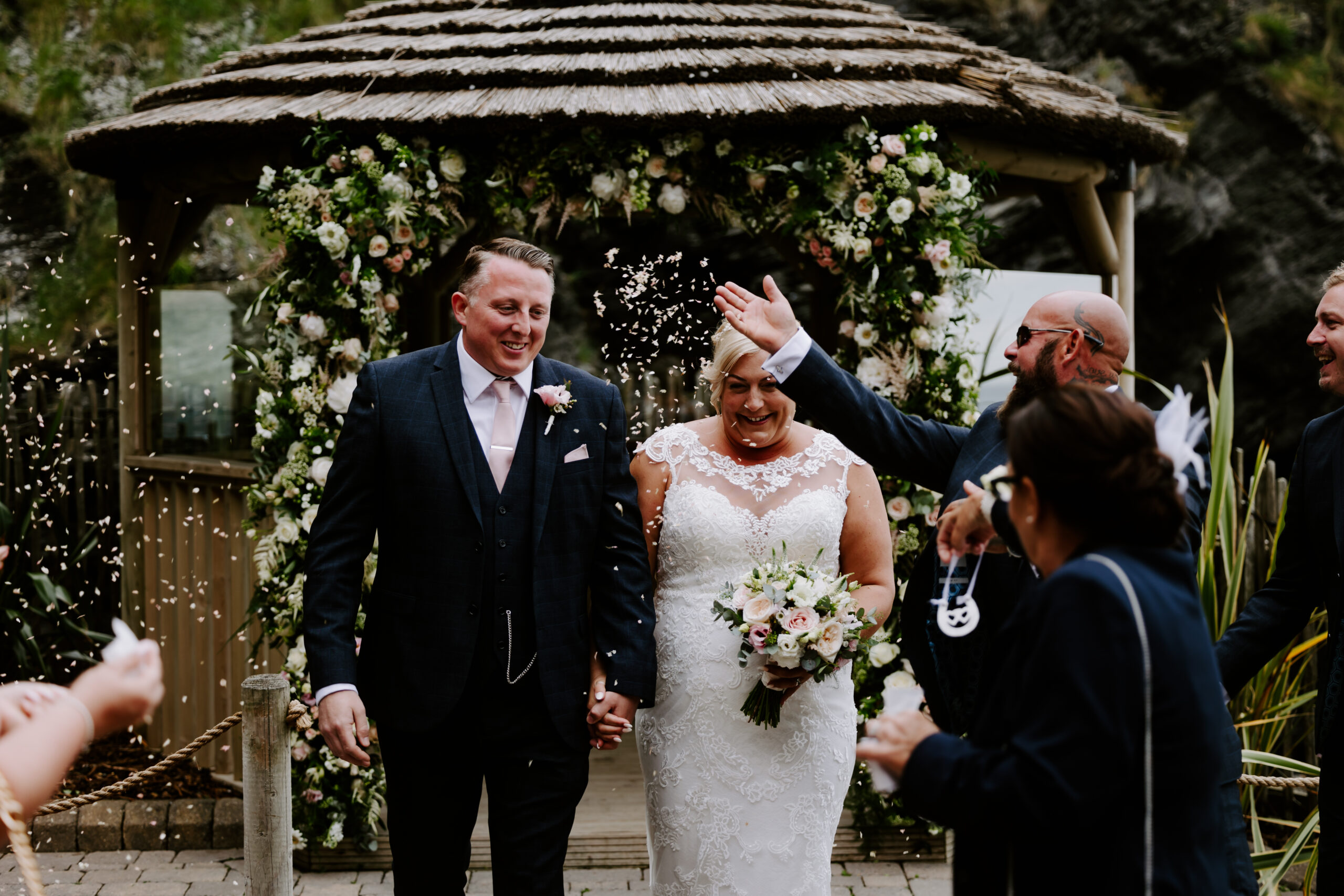 The ceremony was held outside on the impressive veranda in a thatched gazebo overlooking the sea.  And Selina was walked down the aisle and given away by her father.  It was the perfect setting for a beach wedding ceremony in Devon.
After the ceremony there was a fun confetti moment that I captured before we headed onto Tunnels Beaches private beach (not many wedding venues in Devon can boast their own private beach!) for some portrait and group images and we had some fun using some hand-held smoke canons.  Here, take a look!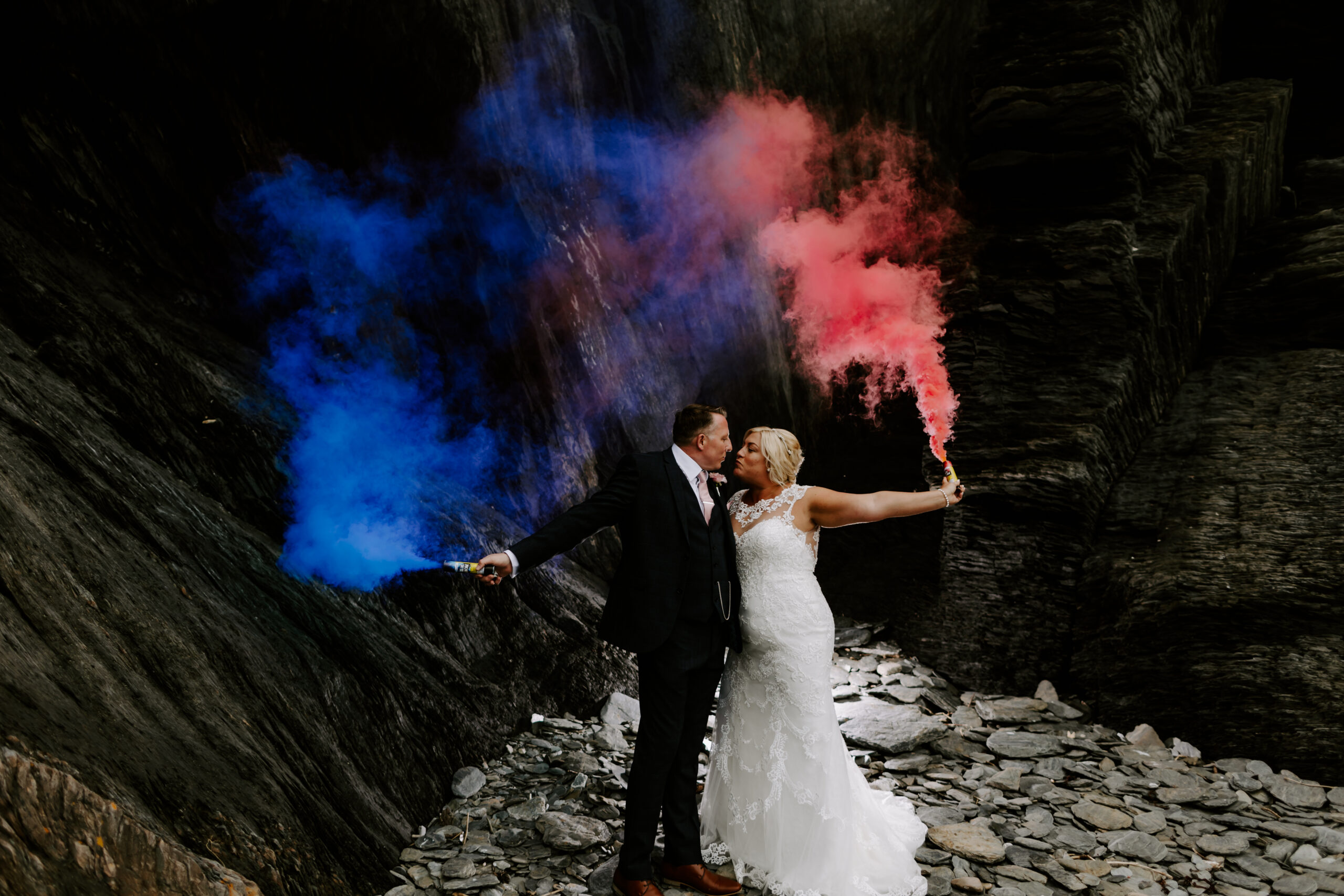 I then took Selina and Walter off for a mini photoshoot around the beach and coastline near Tunnels Beaches.  The weather was overcast with a moody sky which worked really well with the rugged coastline.  Looking back Selina and Walter enjoyed this time of the day where they could just slow things down a little and be in the present.
The drama of the setting added a really romantic and wild feel to the images that I know Selina and Walter loved.  People think that you need blue skies and sunshine in wedding photos but using whatever nature throws at you to your advantage, is how you get the most authentic images.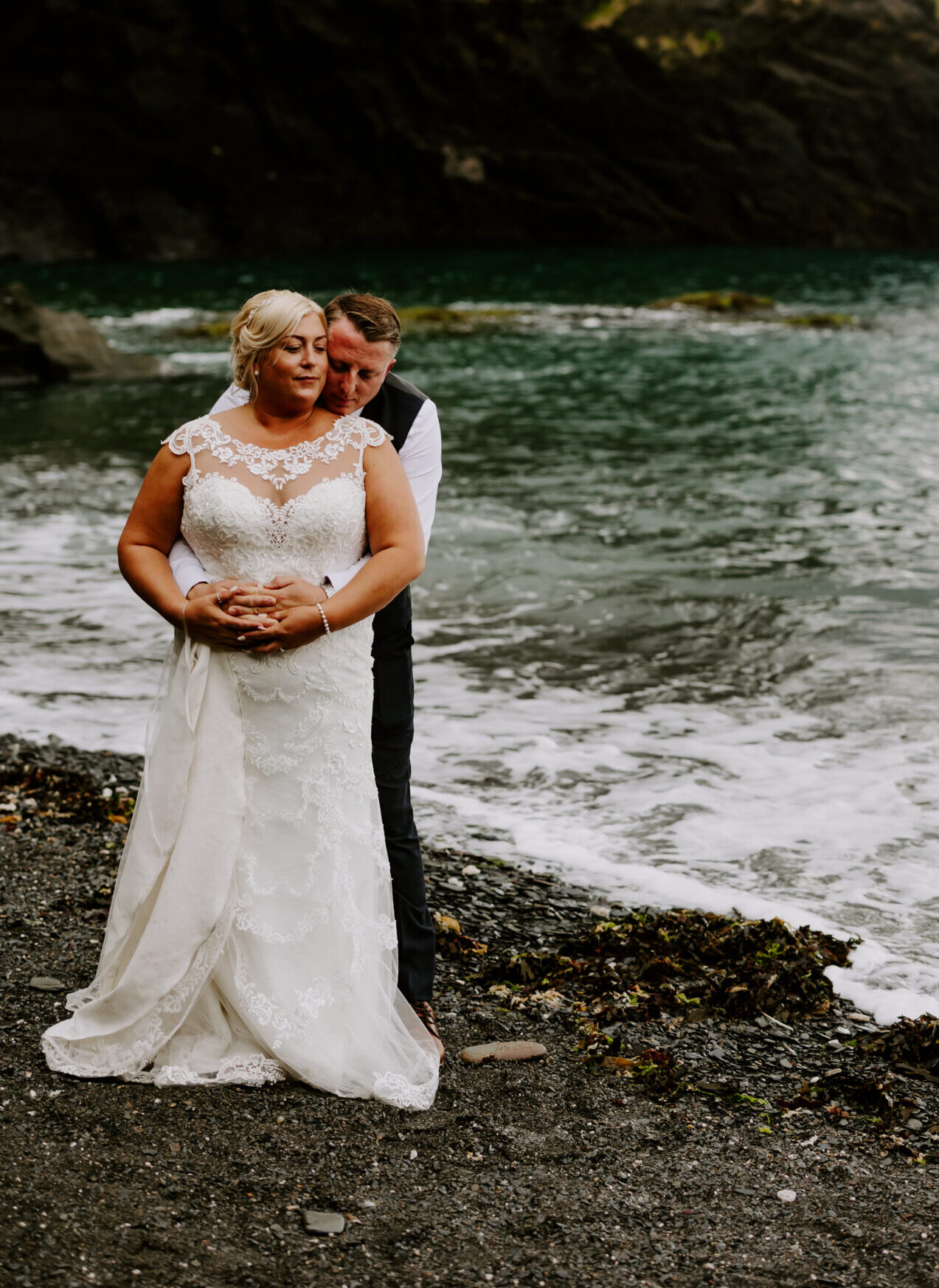 When we returned the partying really started and this lot wasted no time, they were definitely up for a party!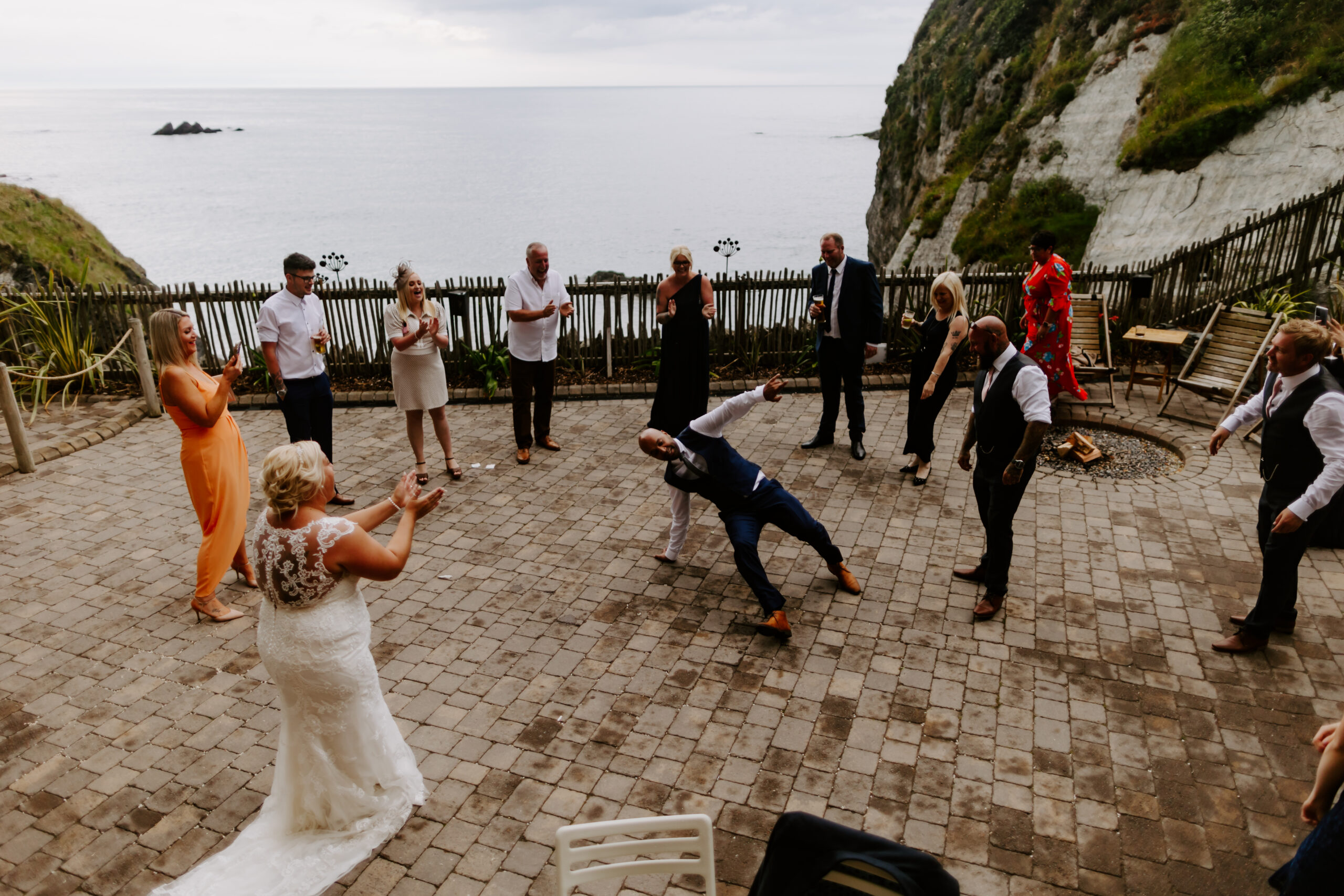 My last image of the day was one I got using my drone camera.  The image of Tunnels Beaches all lit up for the evening with Selina, Walter and their loved ones all partying inside seemed the perfect image to close the story of their amazing wedding day.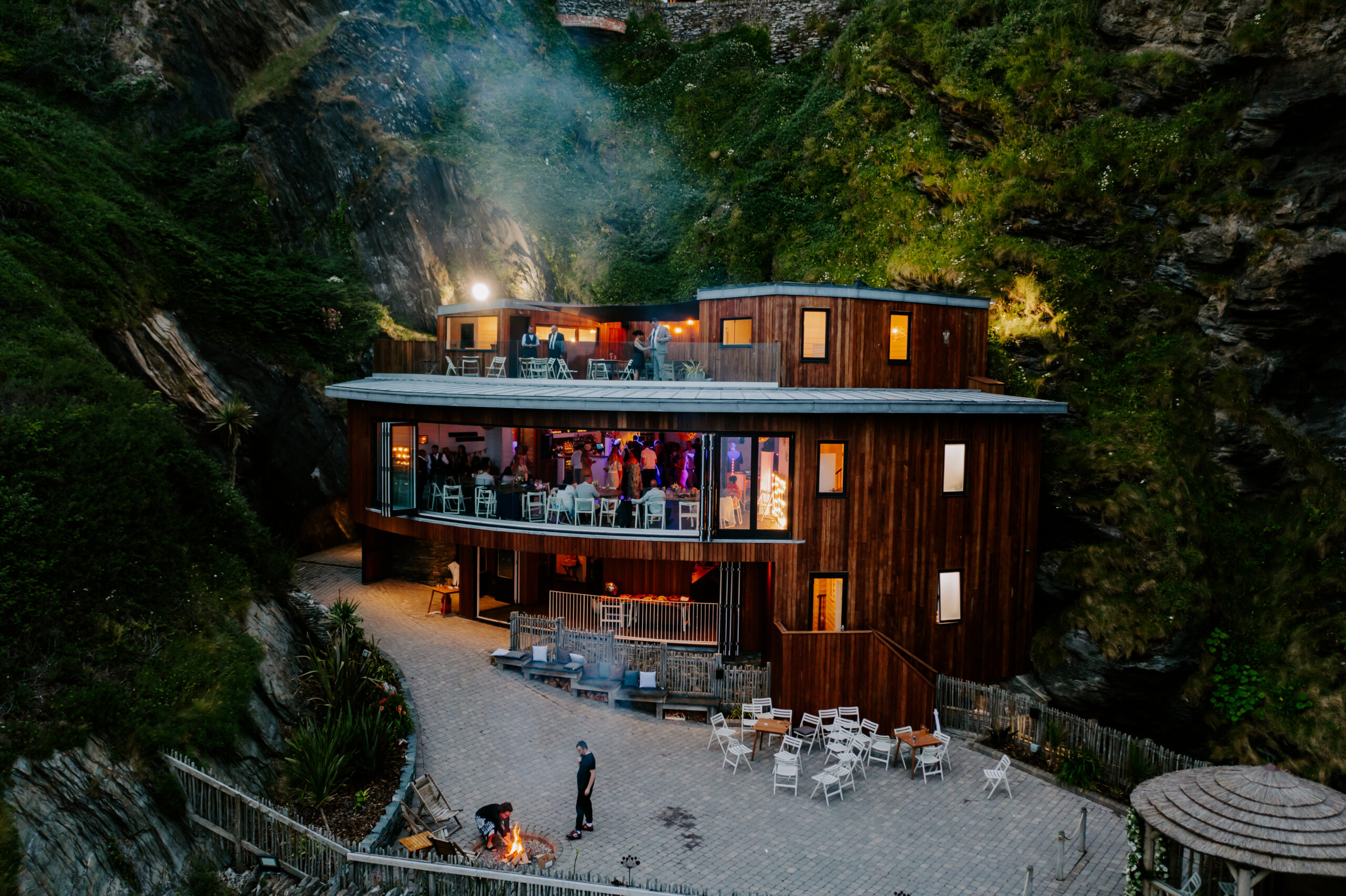 A gorgeous, fun, family-friendly wedding full of love and laughter at a beautiful Devon wedding venue.  Congratulations to Selina and Walter for getting married and creating an amazing wedding day for you, your family and your friends to remember.  I hope my images will help you to relive it again and again for many years to come.
I'll leave the last words to Selina and Walter.  Here's what they had to say about working with me.
"We were also really pleased that we went off a couple of times with Tom and did some shots on the beach and surrounding coastline too, in the afternoon and evening. It gave us some time just to talk and take in the day. And again, the photos make me think back to those little conversations between us and the realisation that here we were, actually married after all the planning and hard work and having the best day!"
Suppliers:
Photography (me!): Thomas Frost
Website: https://thomasfrostphotography.com/
Instagram Handle: t.frost.photography
Venue: Tunnels Beaches
Website: http://www.tunnelsbeaches.co.uk/
Instagram Handle: tunnelsbeaches
Hair and Makeup: Bright Eye Beauty
Website: https://www.brighteyebeauty.co.uk/
Instagram Handle: brighteyebeautynorthdevon
Flowers: Pumpkin and Pye
Website: https://www.pumpkinpye.com/
Instagram Handle: pumpkinandpye
Cake: Little Mallow
Facebook: https://www.facebook.com/littlemallowcakes/
Instagram Handle: little_mallow_
Entertainment: DJ – The Wedding Spinner, Ilfracombe
Website: https://www.theweddingspinner.co.uk/
Instagram Handle: devon_dj_uk