I had a great time photographing Tabz and Helen's Boho wedding in Cornwall.  Elopement weddings in Cornwall are always a delight to capture and are perfect for couples looking to have their wedding done their way.  Here's what Tabz and Helen had to say about their wedding adventure.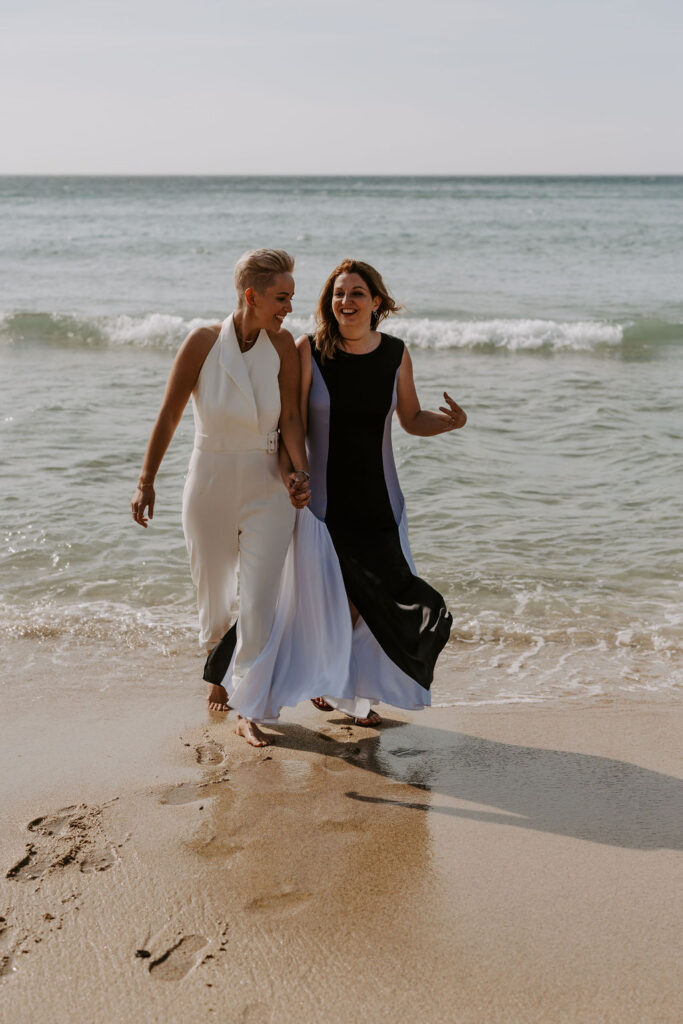 "We got engaged on the Amalfi Coast, Italy, in Oct 2019 – the same month that same-sex marriages were made legal in Northern Ireland. This was a big deal for us, and with Helen being from Belfast, we had been waiting a long time for this equality within the law.
A few months after our engagement, we were suddenly in the midst of a worldwide Covid-19 pandemic. Planning our wedding wasn't at the forefront of our minds as we navigated being separated from family, throwing ourselves into humanitarian responses to Covid in our jobs, and the various ups, downs and stressed of lockdown life.
It wasn't until summer 2020, when we came up to breath, that we started to think about what we wanted from our wedding, as well as what we didn't want. We very quickly realised that eloping, just the two of us, would be the perfect way to get married. We found a beautiful venue in BoHo Cornwall. We were drawn to the scenic and peaceful Corish Coastal surroundings, and booked it straight away for April 2021! We found the amazingly talented, and genuinely lovely, Thomas Frost to capture our elopement and ensure we could share our special day with family and friends.
The lead up to the wedding was completely stress free, and really enjoyable. Maya and Tom from BoHo were such friendly, and attentive, hosts – sharing local knowledge and insights and helping us think through finishing touches that would make our day extra special and unique.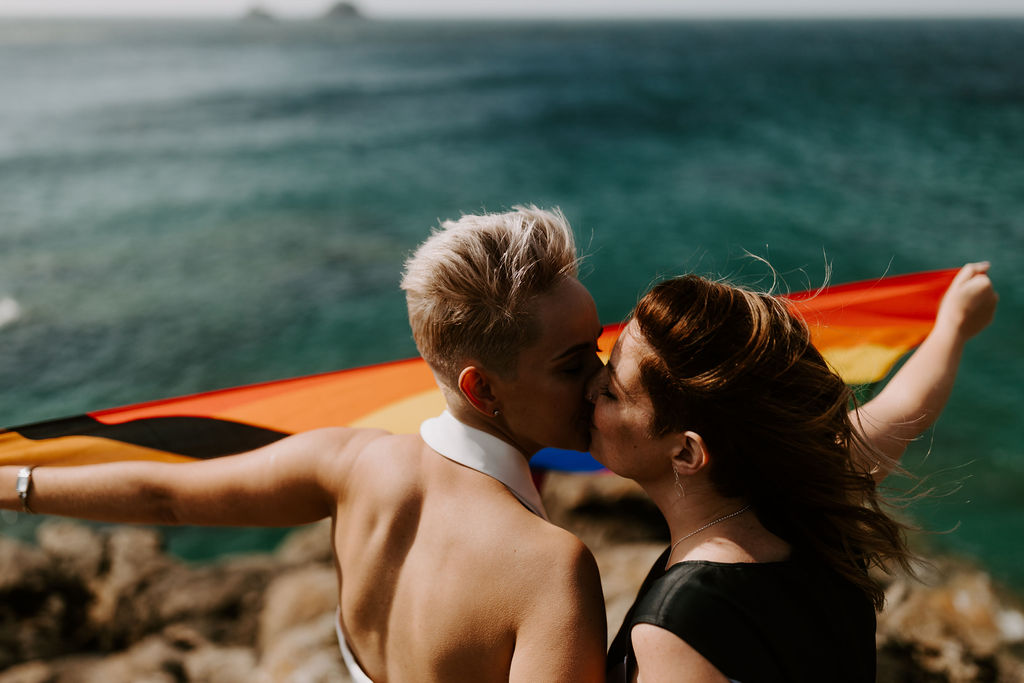 In Thomas Frost, we had found someone who shared our vision, and excitement for our day! It was immediately clear that Thomas had an eye for detail (the exact speed and direction of wind and tides; ensuring we had built in time in the day for a champagne lunch on the beach etc). Thomas provided so many suggestions and hints for special touches we should think about for our day. Any time we made suggestions for things we'd like to include (like flying the LGBTQ+ flag over Cornish cliffs), Thomas's enthusiasm was infectious! We were really impressed with this at the time, but would later come to realise just how much this attentiveness and genuine commitment would shape our wonderful day…
And what a day to capture! From start to finish, we had the most perfect experience, and the best wedding day we could ever have hoped for. It was the kind of day that leaves you beaming from ear to ear. From our chilled out wedding morning, with our delicious BoHo breakfast looking out to the sea, to our romantic, candlelit ceremony, where we both shared personal, handwritten vows. We reflected on the big and small things which made us 'fit perfectly' together, and we took time to be thankful for those in our community who fought for our right to marry, and to share solidarity with those fighting for more fundamental rights.
From our adventure with Thomas to Cornish cliffs, coastal paths and beaches, where he captured the most stunning scenic photos, as well as intimate, personal shots (and as Sherrell, our wonderful registrar said, 'lots of laughs and giggles') felt like a wonderful adventure!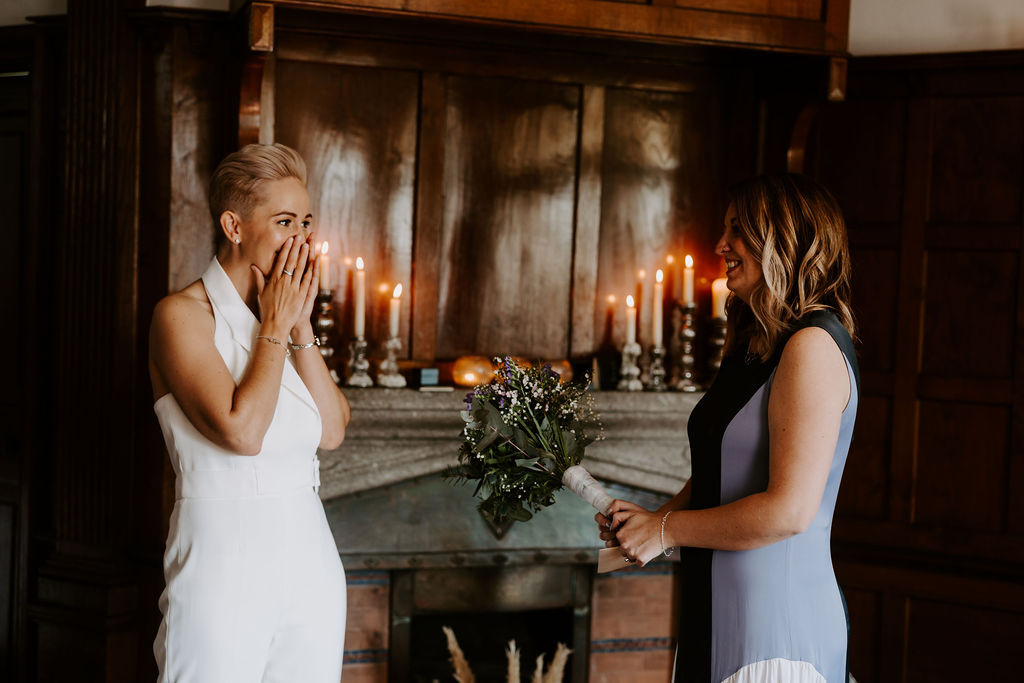 The shots completely captured not only our fantastic day, but really 'got us' as a couple. With our make up and hair done expertly by Sjani from Makeup by Ione, we both felt beautiful and Thomas captured that amazingly.
The champagne picnic on the beach, followed by watching the sunset together from our BoHo balcony, was a stunning – and after nearly a year of lockdown in Manchester – slightly surreal way to end our perfect elopement day. After a few more days of wedded bliss on the Cornish Coast, and a stop off in the Cotswolds on the way home, we arrived back in Manchester, with a selection of the most wonderful photographs to share with our nearest and dearests in our continued celebrations.
Photographs that will ensure we can forever remember every detail, reminisce the poignant parts and the many, many giggles, and continue to beam every time we look at them. We got married! And it was the best day we could have ever imagined.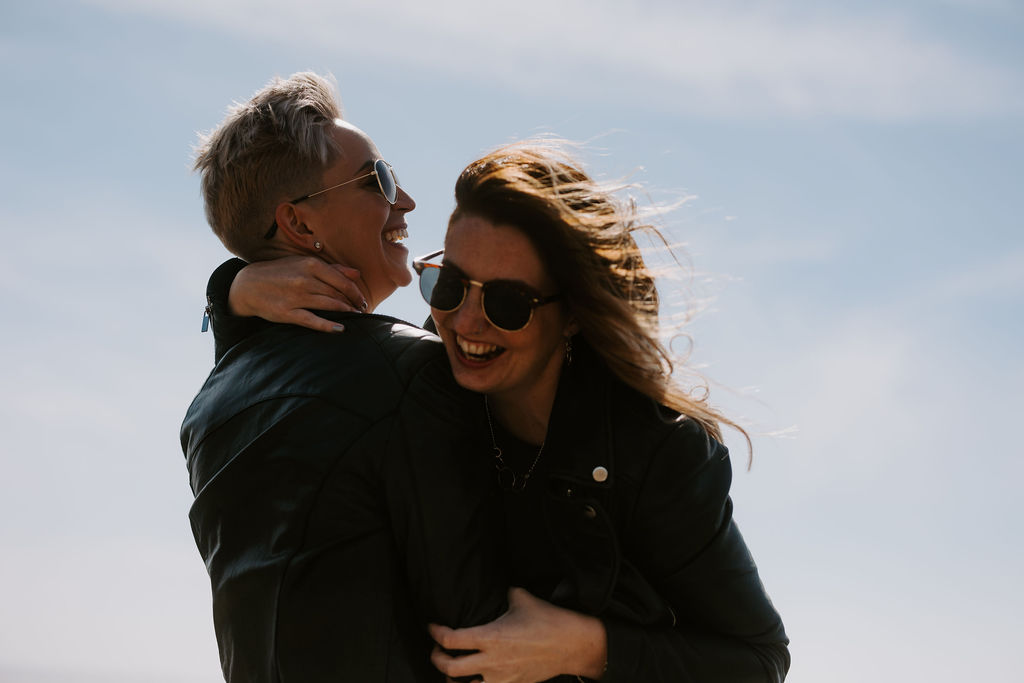 Congratulations to Tabz and Helen for getting married and creating an amazing wedding adventure for you both to remember.  If you think an elopement wedding in Cornwall is for you then why not take a look at Boho Cornwall.  I just love their ethos.  Here's a link to their website https://www.bohocornwall.co.uk/  
I am so lucky that I get to tell the story of elopement weddings in Cornwall with beautiful and timeless images.  For ideas and inspiration why not take a look at my website and if you think I could be the person to photograph your elopement wedding in Cornwall then feel free to give me a shout.  I'd love to hear about your wedding plans.