I always love returning to shoot wedding photography and film at The Cow Shed at Freathy Farmhouse and I always love working with fantastic couples like Gabbie and Dan.  Their Spring elopement wedding in Cornwall was a delight to photograph.  The Cow Shed at Freathy Farm in East Cornwall is an ultra chic rustic barn wedding venue set in rolling countryside and just a stone's throw from the sea.  They specialise in creating bespoke elopement weddings in Cornwall.  Their intimate rustic atmosphere combined with the personal touch that the team at The Cowshed put into every wedding, were precisely what Gabbie and Dan were looking for.   Ask any Cornwall wedding photographer and they will absolutely rave about what a fantastic wedding venue The Cowshed is.
I say elopement but there was a very special guest in attendance in the form of the couple's English bulldog Diego.  Who had dressed for the occasion!
On the day, I caught up with Gabbie and Dan who were getting ready together.  That's another thing I love about shooting elopement wedding photography in Cornwall, is that tradition goes out of the window, and couples can just choose to have their day their own way.  They were both really chilled out and happy and I got some lovely images of them before the ceremony.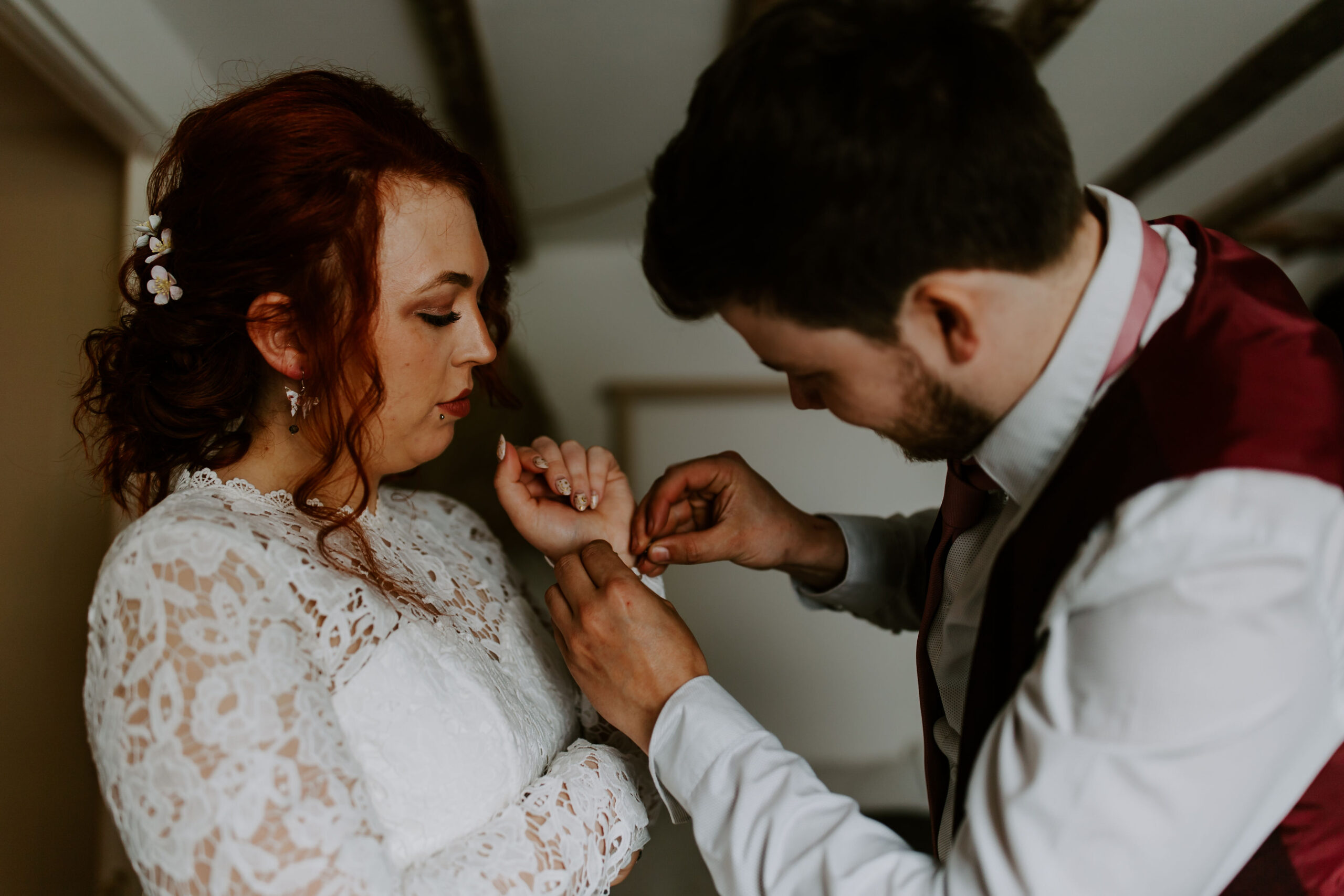 Here's what Gabbie and Dan had to say about their elopement wedding in Cornwall.
"We'd decided to elope to Cornwall as we both loved it there and as Dan's late father did too, it held a special place in our hearts and lots of fond memories. Which is when we found The Cow Shed, from first enquiry to the various changes made due to the pandemic, Sarah and Jeremy's personal touch spoke volumes. They were our witnesses and sorted everything for us, four flowers, our Japanese inspired décor (we got engaged in Japan) they really spoilt us.
They recommended Tom, our photographer, and after some Instagram stalking, we fell in love with his unique photos and gorgeous, personal videos. Tom made the entire process stress free, and captured our day perfectly.
We had a incredibly chilled day, although not all went to plan with restrictions and the weather, it was the best day. We got ready together, which although not traditional was a lovely way to start our journey as Husband & Wife.  We had Tom meet us whilst we were getting ready and he kept us at ease and captured these special moments for us.
After our ceremony, we had an explore around the local area with Tom and then warmed up back at the cowshed in front of the fire, whilst we waited for our wedding breakfast.
Our advice to couples planning their wedding is 'Just do you, the day should be about you. We had such a stress free, perfect day!"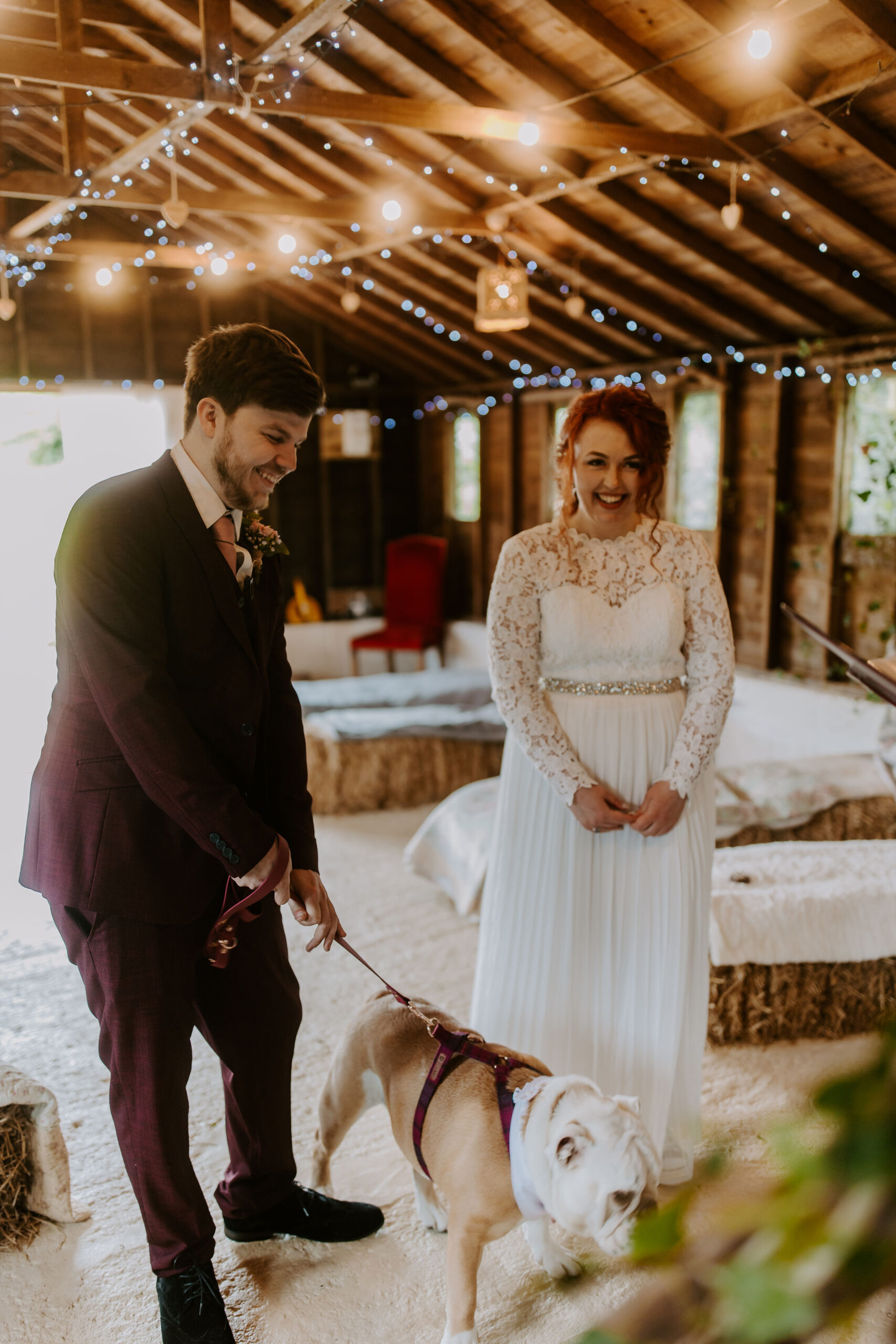 The ceremony was held in the Cowshed which is an enchanting timbered barn dressed with fairy lights, rustic decorations, and a handmade wedding archway.  A blanket with covered hay bales provided seating for the couples two witnesses.  Beautiful, pared back. magical and rustic.  The barn looked like something straight out of a bridal magazine shoot.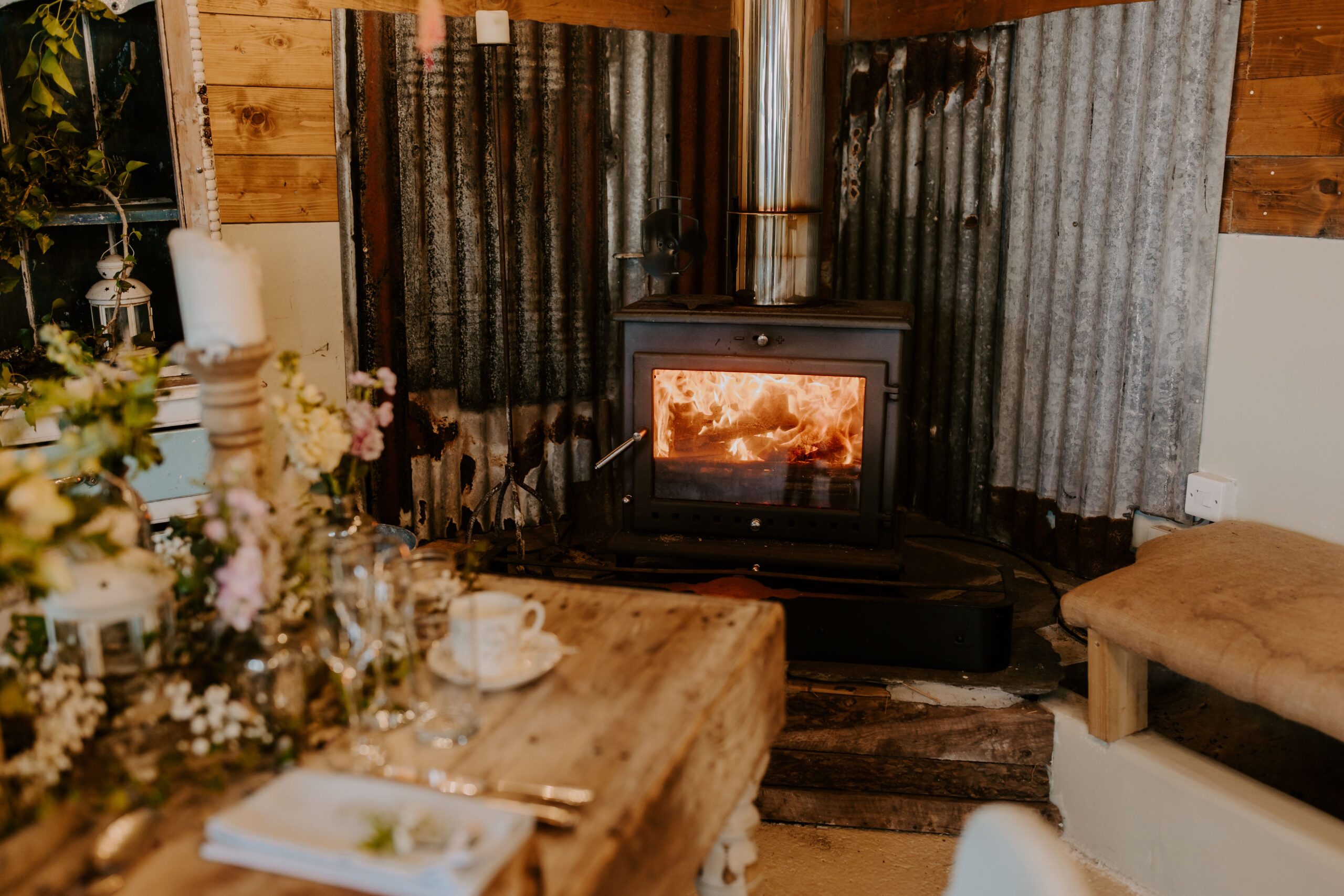 My favourite part of the day was when I took Gabbie and Dan exploring the local coastline, parkland and wildlife.  Elopement weddings tend to attract couples who are up for an adventure and not afraid to get a bit dirty or wet.  Gabbie and Dan really embraced their wedding adventure.  And the rugged Cornish coastline provided a beautiful backdrop, the poor weather and moody skies just added to the drama in the images.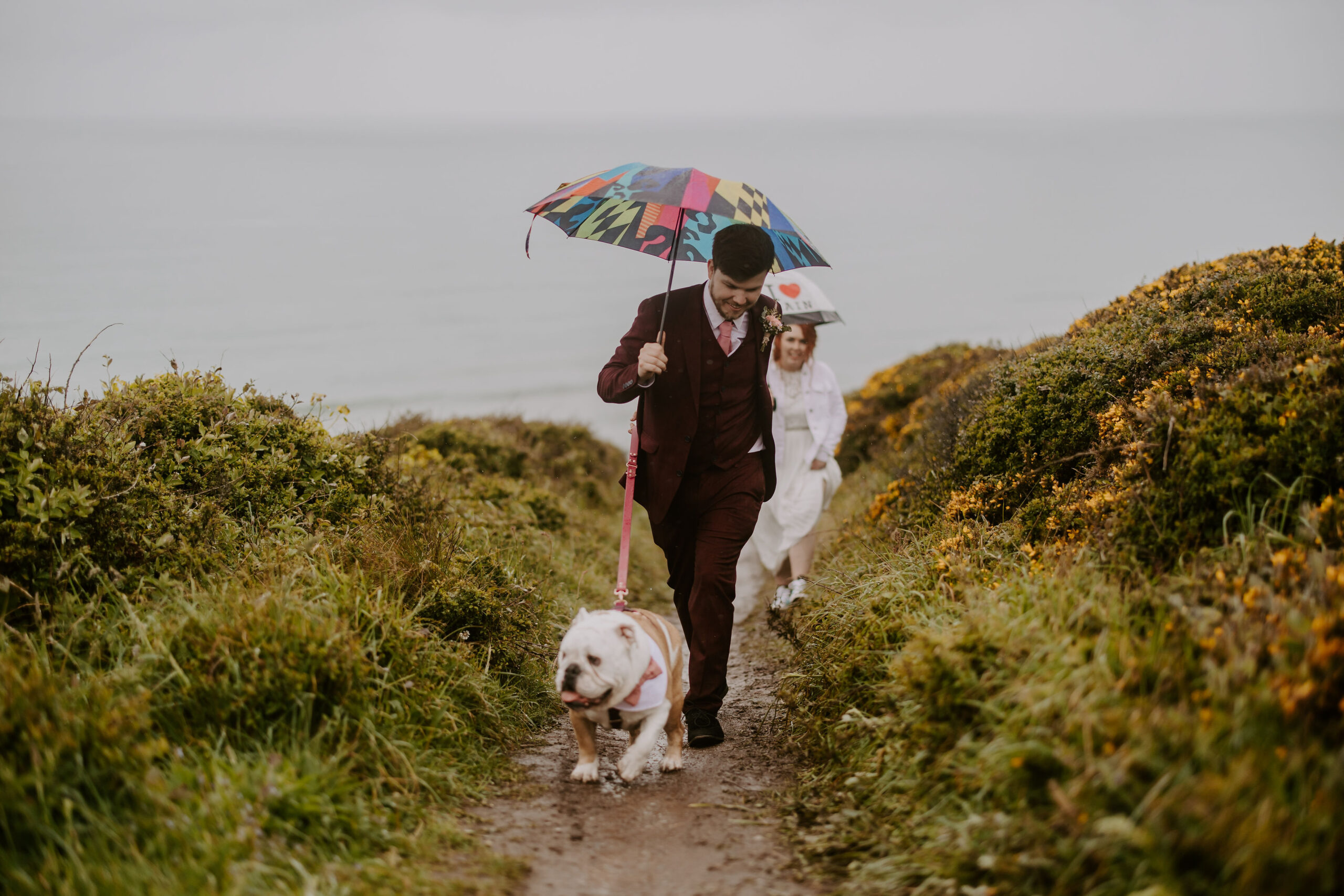 I really enjoyed capturing Gabbie and Dan's elopement wedding in Cornwall.   These two really embraced the freedom that an elopement wedding brings and totally relaxed into the day.  And this really shines through in the photographs and wedding film.
Congratulations to both of you and thank you for allowing me to tell the story of your beautiful and intimate wedding day.   I'll leave the last words to them.  Here's what Gabbie and Dan had to say about working with me.
"Tom's film made so many of our family and friends shed a tear. He personalised it completely to us and I couldn't have imagined anything better. I adore our photos, they capture our day so beautifully, we've had so many comments on how amazing and personal it all looked. Tom made the most of the weather we had and accommodated our needs, he put us completely at ease and loved exploring different areas to get different shots.  He also focused on the little touches too, from involving Diego, to our ashes Jewellery that we wore, nothing was missed & it made such a difference".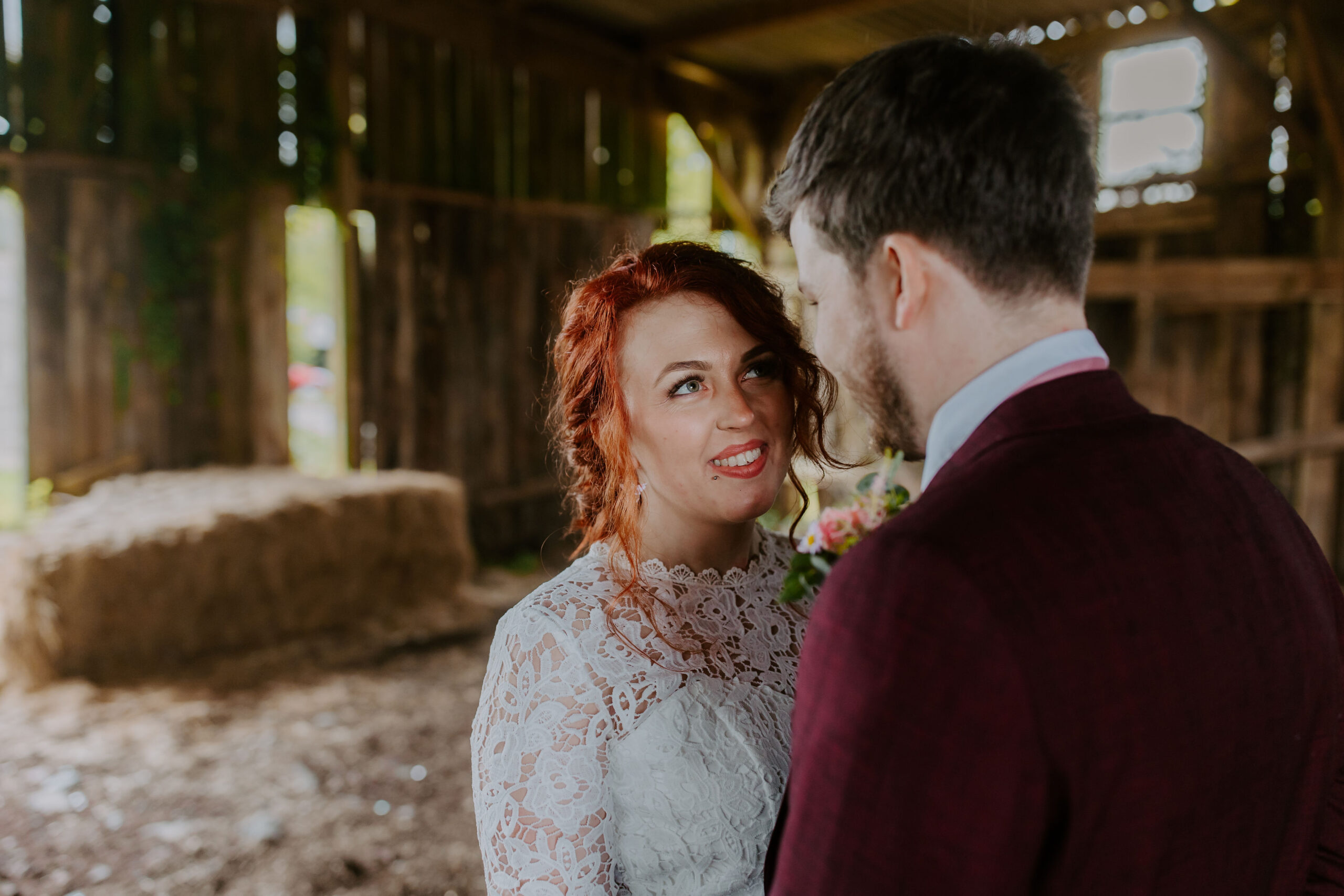 Suppliers
Elopement venue & flowers: http://@thecowshedweddings
Accommodation: http://@littlewoodsidecornwall
Hair: http://@hairbyemmac
Ring: http://@jewellery_by_tonystrowger
Shoes: http://@she_talkstorainbows