I loved photographing Lia and Tom's Cornwall elopement wedding at Beacon Crag.   Built in 1887 for a local artist Beacon Crag is set within five acres of private cliff top grounds with sweeping lawns and has its own access to the sea and rocky coves below.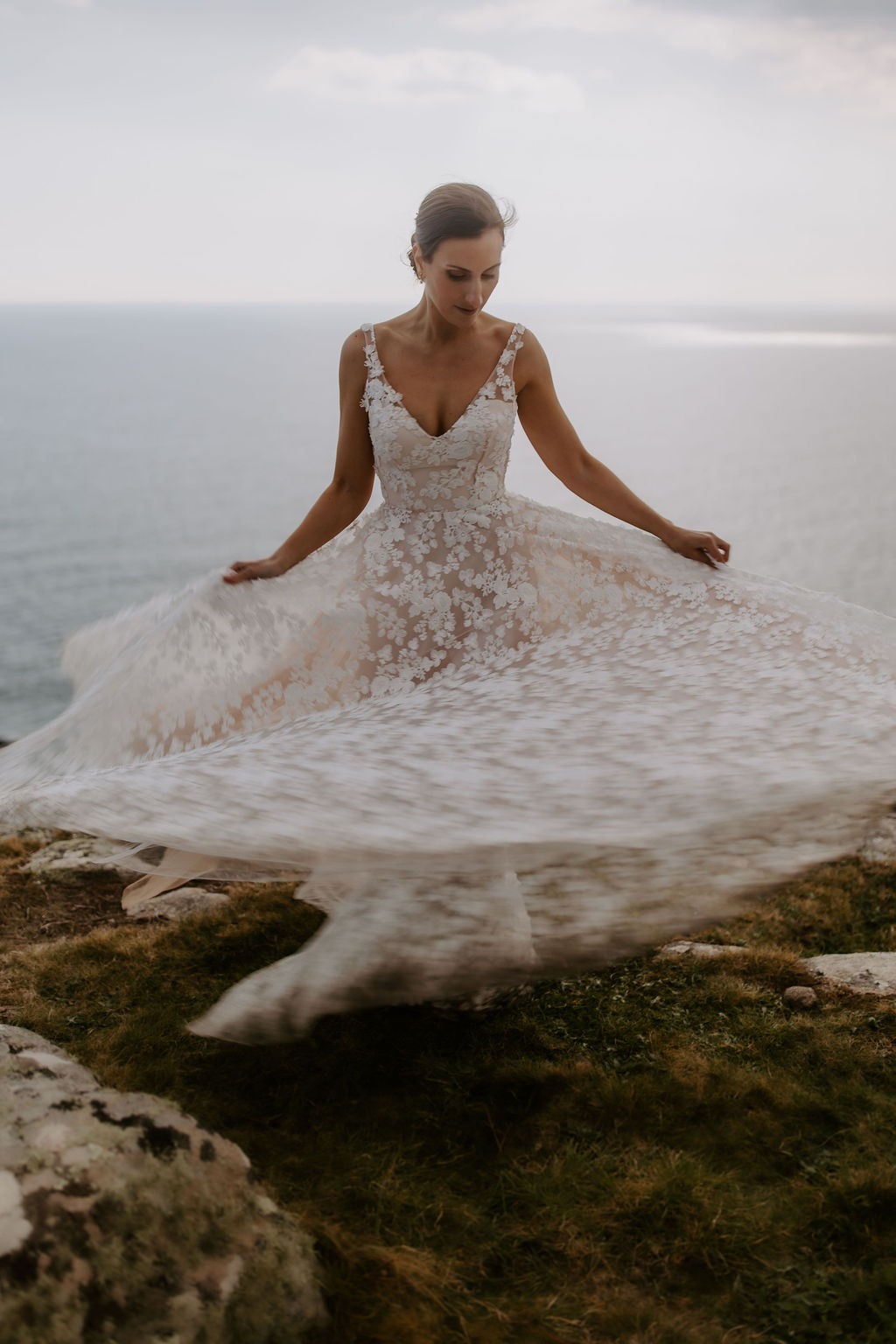 Working with lovely couples like Lia and Tom and getting to capture elopement  wedding photography is stunning locations like Beacon Crag are what I love best about being a Cornwall wedding photographer.
Here's what Lia and Tom had to say about their gorgeous Beacon Crag elopement wedding in Cornwall.
"We always knew what we wanted when it came to our wedding; simple but elegant. It became such a popular phrase between us that we used it when describing almost anything to do with our wedding. But I don't think either one of us truly knew what it meant until after we got married.
Like most engaged couples during the pandemic, we needed to review a lot of the choices and decisions being made in regards to our wedding. One huge, overriding factor was that Tom (the groom) was due to be deployed in the spring of 2021. It therefore put quite a time restraint on our plans, if we were to get married before he left. Therefore, once we made the difficult decision to cancel our big October 2020 wedding, we immediately forged ahead with our plans to elope.
The location of our elopement was a very easy decision. We had already decided to marry next to the coast, as we have so much love and respect for the beauty of the blue depths. From dramatic and sea ragged coast lines, to shimmering clear waters lapping against golden sands. No matter where we chose, the coast would always deliver. It was a key part to our wedding and one that we always wanted to capture and would therefore carry through in our plans. We were therefore delighted to learn that Tom (the photographer) would still be available to shoot our elopement for us. His previous work of wedding seascapes was what drew us to him in the first place. Tom has this raw, natural ability to truly capture the essence of the moment. Not just between the couple, but within the landscape too.
Neither one of us had been married before and because we were keeping our elopement top secret, we did not have many other people to discuss plans of how the day would transpire. Tom really helped us to structure the day and understood that we wanted to capture a moment in time that can be re-lived by our loved ones that unfortunately couldn't be with us that day. Through every step on the build-up, to the day of the event, Tom helped to guide and make suggestions where necessary. He was not just the photographer that day, but the wedding coordinator, a bridesmaid, a groomsman and most importantly a friend. He was visible when you needed him and would magically disappear when we needed a moment (or two) alone. Always snapping away and always capturing one moment in time after another.
I now sit here, with a glass of wine in hand, my husband has now been deployed, but I am able to re-live every precious moment of that beautiful day through stunningly elegant photographs and a film I never dreamed we could own. When I am now asked what was our wedding like, I can look back with great fondness and respond with; simple, but elegant.
 We would like to take this moment to express a huge thank you to the small team that worked with us to help make that day extra special.
Dress: Dawn and her lovely team at Lovely Bridal Lovely Website (lovelybridal.co.uk) @lovelybridaldevon
Venue: Beacon Crag owned and run by the lovely Samantha who made a delightful witness along with her beautiful daughter. Beacon Crag – Porthleven – Beacon Crag – Porthleven @beaconcragweddingvenue
MUA: Hannah Symons @makeupbyhannahsymons
Hairstylist: Melody Rose @hairstylistbymelodyrosewedding
Accommodation: Little Kantara, Marazion Little Kantara | Above Beach Cottages
Four-seater Morgan: Perranwell Classic Car Garage. https://www.perranwell.co.uk/
Lia & Tom"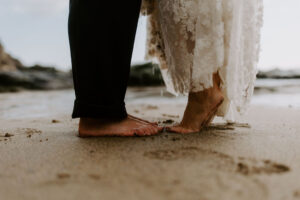 The team at Beacon Cragg really get what elopement weddings mean to their couples.  Their elopement wedding package includes the hire of a ceremony room, a bottle of champagne and use of their gardens for photographs.  Up to 15 additional guests can also be accommodated of if you're really keeping it low key, they can even provide you with a witness.   Everything you could need for a romantic Cornwall elopement wedding.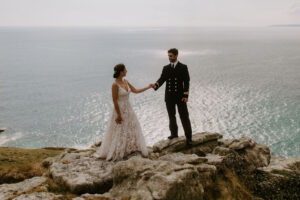 The wonderful thing about photographing elopement wedding photography in Cornwall is that the weather can't spoil the day.  Bright sunny days with blue skies are stunning, though moody skies can offer real drama.  As a professional wedding photographer I work with whatever light and weather is thrown at me to create beautiful images.  And as elopee's tend to be romantic and free spirited souls at heart, they're always up for the adventure.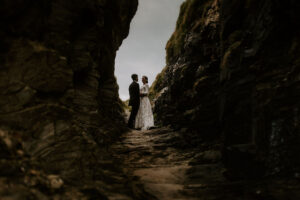 Congratulations to Lia and Tom for creating such a beautiful wedding adventure for yourselves and thank you for allowing me to tell the story of it with beautiful and timeless images.  So, if you're more explorers than tourists, and dream of a wedding without compromise or the weight of expectations, an elopement wedding in Cornwall could be perfect for you.  Why not browse the pages of this site and if you think I could be the right person to tell the story of your elopement wedding in Cornwall then feel free to get in touch, you could send me a message..
Whilst you're here, why not take a look at my cinematic films. They are the perfect addition to my photography and great for small weddings and elopements.  Below is the film that I created for Tom & Lia's wedding.   A beautiful and romantic story of the day, told in my unique style.   I hope you enjoy it!
Tom