Krystal and James chose the beautiful seaside town of Charlestown for their romantic elopement wedding in Cornwall.  COVID-19 restrictions coupled with the impending arrival of Krystal and James' first child made Cornwall the perfect choice for a romantic and intimate wedding celebration.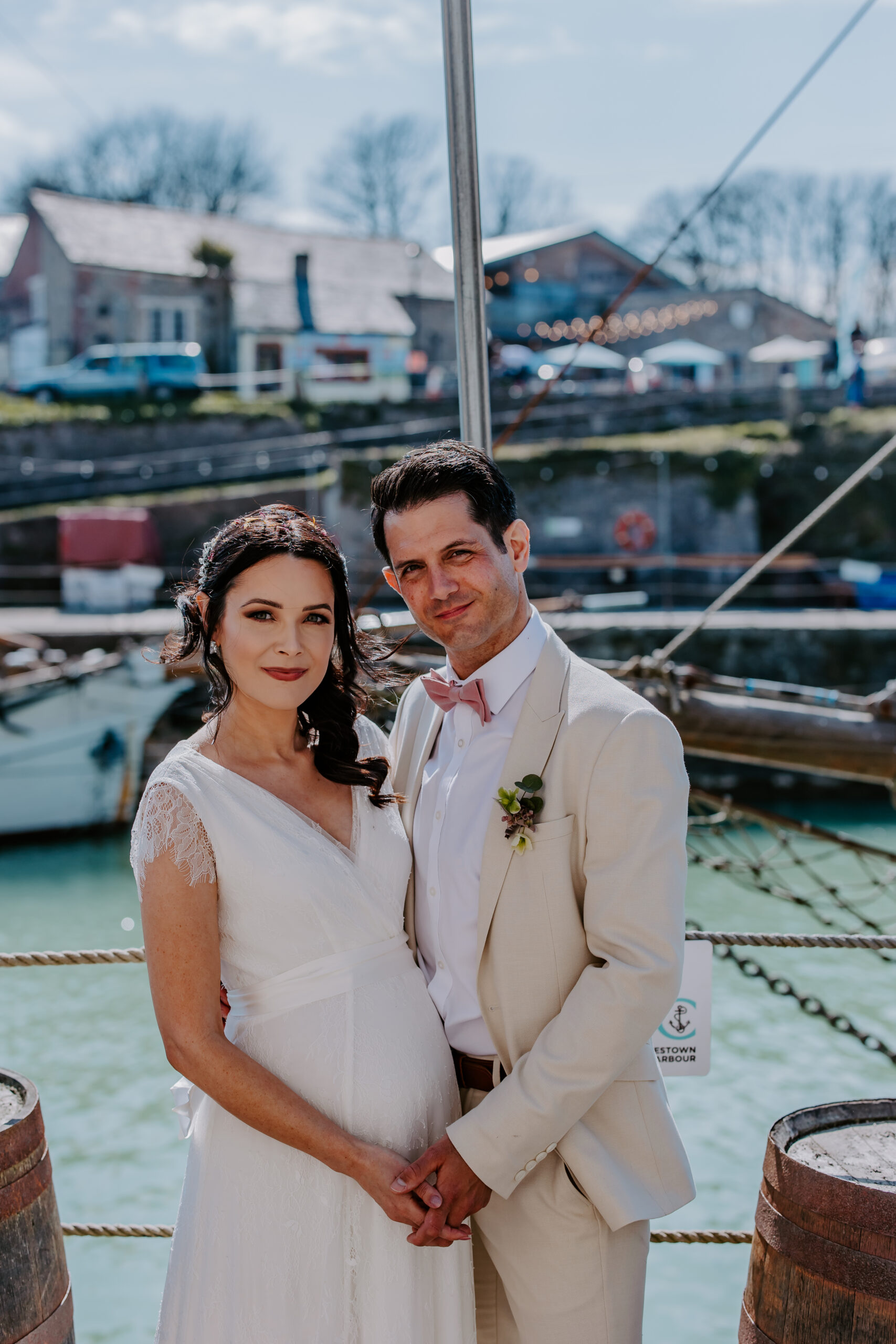 Here's what they had to say about their elopement wedding in Cornwall.
We chose to elope on the 18th of April 2021 in the beautiful seaside town of Charlestown in Cornwall. We were originally planning for the normal larger wedding but after all the COVID uncertainties, being an Australian with family and friends unable to travel over, and our first baby on the way, we decided we needed to shake up our plans to something a little more spontaneous and perhaps more special.
When we heard that COVID restrictions were about to ease in April, we made the decision to plan our elopement in secret and last minute. We only told our close family and friends the week before.  We also knew that James' parents were going to be in Cornwall the same weekend we chose to elope so when we told them the news to dress up and come and witness us getting married the following, they were incredibly excited and emotional to be able to share this special moment with us.
We chose Cornwall as it had some special significance to both of us. For James it was a place he frequented every Summer growing up in the UK with his family and for both of us, it was where we took our first holiday together when we started dating. We also felt that the beautiful landscape and coastal vibes had a more romantic elopement feel compared to a typical wedding in a large venue.
For the day itself, we wanted something low key but still felt special. We chose the picturesque Marine Villa self catering holiday home owned the by the amazing Antonia and her husband David in Charlestown. The home itself was a licensed ceremony venue with a beautiful garden and an interior decor that made you feel like you were in a curiosity shop. We also knew it would be a perfect backdrop for some amazing photographs with a garden and seaside vibe.
Because it was Spring we also chose Amanda Taffinder as our florist, who made us some beautiful  locally sourced rustic wild style arrangements which complemented the garden ceremony backdrop perfectly.
What we felt was important for the elopement, particularly because most of our friends and family were not there, was to capture our special day with the right photographer. After a recommendation from Antonia, we felt that Tom was the perfect person to capture our special day for both photography and videography. His dramatic and candid style allowed us to capture our day in a story telling format.
We felt very comfortable in front of his camera lense and at times were unaware he was there which allowed him to capture those special candid moments of the day.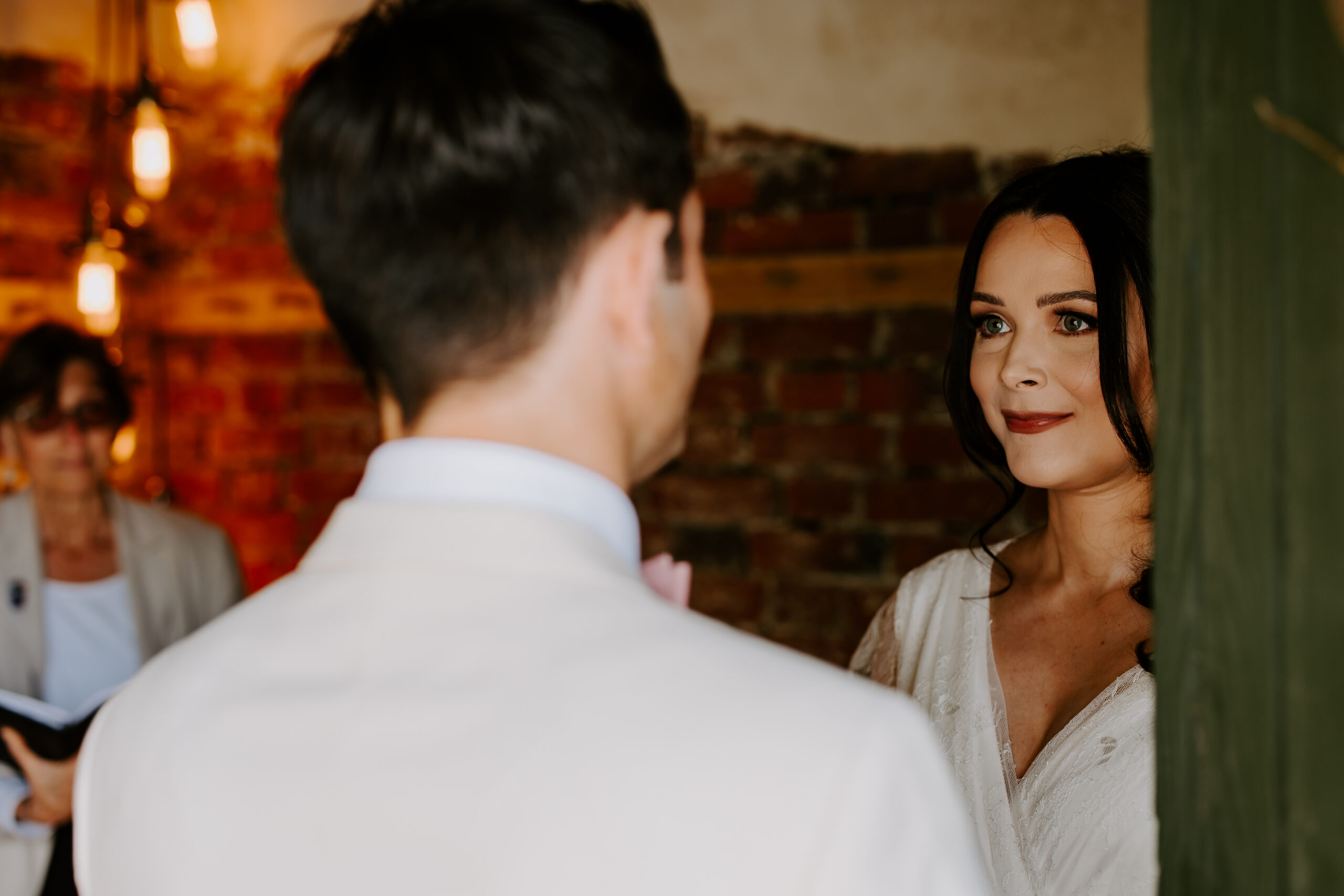 I think the the best thing about the photos taken were his ability to capture some key moments, in particular James' face when he first saw me while walking down the aisle, with the overwhelming emotion captured on his face just at the right time. A moment captured that was also my most vivid memory of the day, as I turned the corner and saw his face for the first time. I am forever thankful that this memory was captured in picture format for us to cherish for many years to come. Thankfully the weather was also sunny and perfect so we were also able to capture some amazing shots in the Charlestown harbour and on a beach nearby. The colouring of the photos looked amazing.
For people who couldn't be there like my family in Australia, with Tom's photography, it allowed them to be able to see the journey of our special day. It even induced a few happy tears!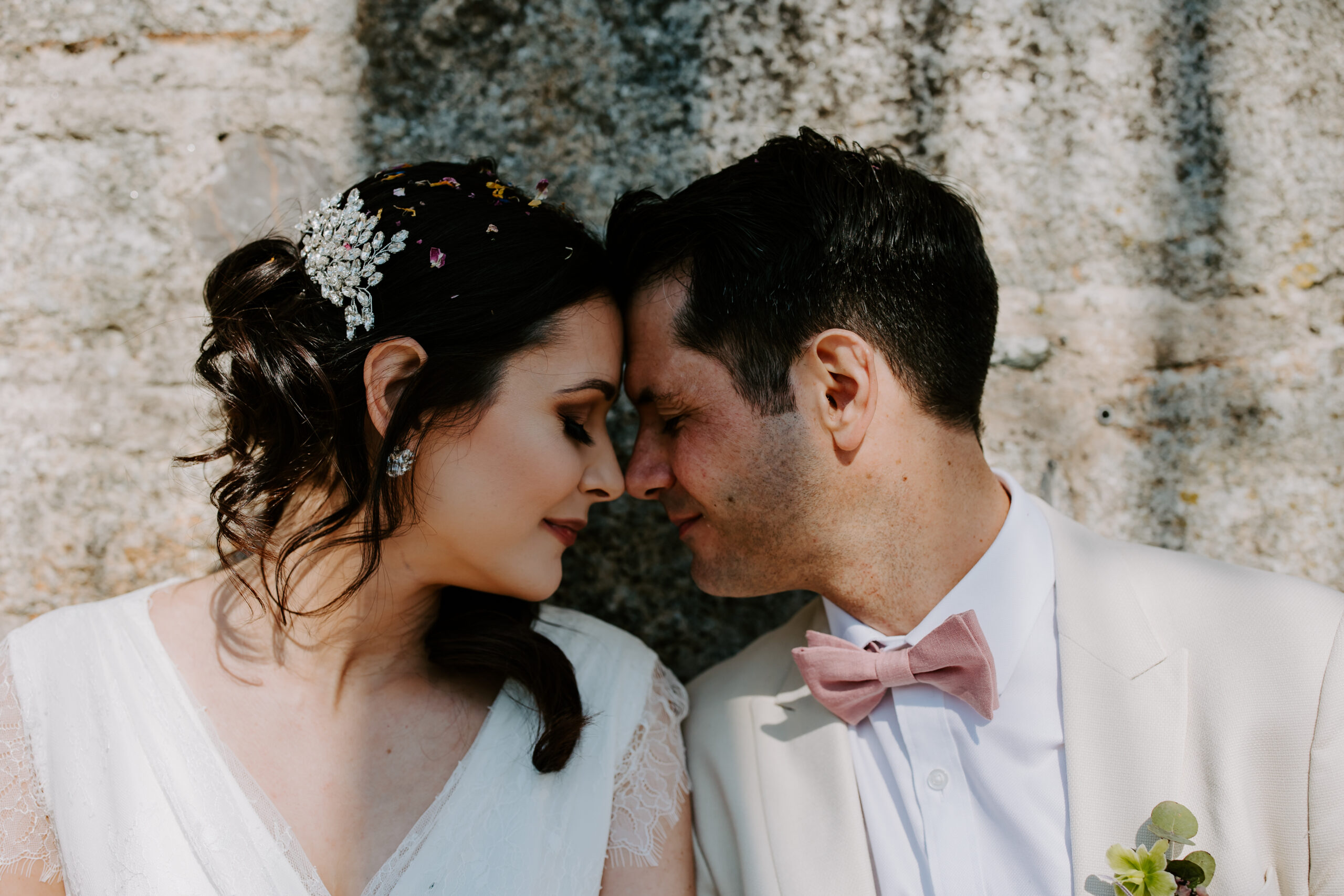 In terms of advice, if you are not sure on eloping, I would say take a risk and go for it. There is something extra romantic about doing something that is just about the two of you without needing to please masses of other people which can go along with a large wedding. We would also recommend having a wedding coordinator even if its an elopement who can help plan and support you on the day. Phoebe, who was ours and another recommendation from Antonia, was absolutely amazing and was able to coordinate with our suppliers on the day and also ensure everything flowed smoothly like our  handling our ceremony music and serving of drinks and canapés. Other special shoutouts to our other suppliers, Abbie for the gorgeous hair, and Lanie for the flavoursome and instagram-able food!
Above all, we are forever grateful of Tom's  photography talent and loved every photo and piece of footage he took of our elopement. Thank you again Tom!
Suppliers
Antonia Pearls – Venue/Accomodation https://www.aweddingbythesea.co.uk/
Amanda Taffinder – Flowers https://www.amandataffinder.com/
Abbie Wilton – Hairdresser  https://www.facebook.com/3wishescreativehairstudio
Melanie Calvert – Caterer https://m.facebook.com/finestkoshercaterer/posts/1044523752372946?locale2=sq_AL
Congratulations to Krystal and Tom on getting married and creating such a wonderful day to remember.  I loved capturing Krystal and Tom's beautiful elopement wedding in Cornwall.  As a Cornwall wedding photographer I always feel so lucky to have such a beautiful location to work with as a backdrop to the weddings I photograph.  Being a Cornwall wedding photographer really is the best job in the world.